Buying a pickup truck can be confusing if you're not aware of the factors affecting its durability, average mileage, and overall performance.
Truck prices are high, and it's never a bad idea to ask if your chosen diesel truck will last for a long time. Also, your truck's engine must be made of high-quality materials to keep you on the go for the long years to come.
Cummins diesel engine and Dodge rams have a reputation for long-term reliability. The 6.7 Cummins engine is one of the most fuel-efficient and long-lasting diesel engines available today to power up your ramp truck. You might wonder how long a 6.7 Cummins engine and Ram 2500 will survive.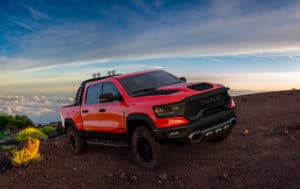 How Long Can a 6.7 Cummins Engine Last?
As a short answer, a 6.7L Cummins loaded in a Dodge Ram will last between 250,000 and 350,000 miles.
Cummins engines last a long time. This diesel engine is highly reliable and has high levels of output. A 5.9 liter Cummins engine can go on for about 300,000 to 400,000 miles. In addition, a 6.7-liter engine can churn out about 350,000 miles without any performance modifications or major repairs being made.
How Many Miles Can You Expect from a Ram 2500?
The former Dodge Ram has an average life expectancy of 15 years. Although the Ram 2500 is relatively fresh to the market, it has a good reputation comparable to its older units.
If you operate ram trucks at the national average driving mileage of 15,000 miles per year, you should expect to go around 250,000 miles during the truck's service life before expensive repairs are required, or the vehicle fails.
As is the case with most cars, case-by-case reports of longevity can vary significantly depending on various circumstances.
These factors include adequate maintenance, poor or good driving habits, frequency of off-road use, and the overall amount of stress placed on the engine.
Given the Dodge Ram 2500's nature as a heavy-duty truck, it is a safe assumption that owners of these types of vehicles go all out when they are on the road.
Bear in mind that frequent heavy hauls, off-roading, and towing will affect the frequency of required maintenance.
Ensure that your truck is running smoothly
Regular maintenance is a must for a very durable vehicle and heavy-duty trucks with high mileage.
Get in touch with your local technician and consult professionals if you want to extend the life of your 6.7L Cummins engine and spot major issues on your Ram 2500 truck. They can also help you check the following:
engine oil
spark plugs
brake rotors
water pump
alternator starter motor
They will help you check your ram truck and assess how parts impact people's safety.
Maintain Long-Lasting Ram Cummins Trucks
Improve your Ram Cummins vehicles with performance enhancements from Titan Diesel Sports. We'll check your truck regularly to keep all parts in good shape. Talk to us for more details.