It's a timeless classic: given its popularity, it's no surprise that the 2023 Dodge Ram HD trucks are already coming out with lots of upgrades. From its reinvigorated performance and powerful engine to updates in both safety and style, the 2023 Dodge Ram is sure to carry an even bigger mark, putting its decade-long legacy to the world.
This article will dip into all this truck's cool upgrades, from an equipped engine that can handle various terrain and climates to revolutionary safety features designed for maximum protection.
What's New for Ram HD Lineup?
The 2023 ram 2500 Cummins – MV 201-500 is an upcoming heavy-duty pickup truck that will turn heads. This model has a best-in-class 1,075 ft. of torque from its 6.7L Cummins I-6 Turbo Diesel engine. Also, it has been rated for up to 37,090 lbs of towing and 7680 lbs of payload capacity on select trims.
However, the 2023 Ram is not only getting a complete redesign but also bringing various upgrades, including:
2023 Ram Power Wagon Trim Levels
The 2023 Ram 2500 Power Wagon offers an impressive towing capacity, load, and off-road-ready trims like no other Ram model. It has a 6.4-liter Hemi V8 engine that goes up to 410 horsepower and 490 lb-ft of torque. This gives you plenty of power underneath and a towing capacity of up to 15,580 pounds.
The 2023 Power Wagon trim has plenty of off-road-ready features like locking differentials, a 4×4 drivetrain system, and heavy-duty skid plates for protection against all kinds of off-road obstacles.
Interior and Exterior Design
The interior of the 2023 Ram truck has been completely redesigned for comfort and convenience. Such convenience includes driver-assistive tech such:
Power-folding mirrors
Behind-trailer view
Heated second-row seats
A cabin
The same goes for the ram heavy-duty trucks. Aside from 33-inch tires wrapping eight-lug 20-inch wheels, several updates include
A cargo divider
Deployable bed step
Locking tailgate
Digital rearview mirror with side camera integration
Adjustable tie-down hooks
Multiple view modes for wider visibility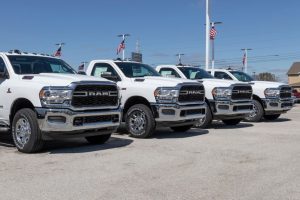 Safety and Technology
On top of the new design, the 2023 Ram 1500 lineup also features some key tech updates. The entertainment controls have been redesigned for more intuitive use. Moreover, the optional 12-inch Uconnect infotainment system makes it easy to stay connected as it has access to Apple CarPlay and Android Auto compatibility.
On the other hand, the Ram 2500 and 3500 models have also received some updates — including a boost in fuel efficiency. The Ram 2500/3500 HD trucks will receive a restored design and improved performance capabilities.
Mopar Sport Performance Hood
The Ram 1500 and Heavy Duty trucks have plenty of tech updates, but the Heavy Duty line has some extra style options that set it apart from other trucks. Also, the Ram HD Laramie and Limited trims have a Mopar Sports Performance Hood for added style. The 2023 Ram Heavy Duty has three engine configurations, with plenty of choices.
Ram HD Trucks Pricing and Release Date
With the 2023 model already gaining traction and expected to hit the market, many are anticipating the final details.
The Ram HD trucks come in 2500 and 3500 forms, starting at $43,245 for the base model and up to $68 940 for the more loaded ones. Generally, the Ram 1500, such as the 2023 Ram 1500 Lone Star Red Edition, starts at $35,190 and is available in six trims. Meanwhile, the Ram 1500 TRX Havoc Edition jeep starts at $106,445.
The Promise of Superior Performance
The 2023 Dodge Ram is a significantly upgraded version of the classic pickup truck. It has expanded space, improved comfort and convenience, and noticeable enhancements. With this, the Ram HD is certain to be an even more popular truck choice moving forward.